Jersey beach rules changed for polo game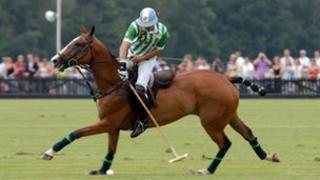 Rules which ban horses from Jersey's beaches are being relaxed - to allow a polo tournament.
Four teams have brought more than 30 ponies to the island for the international beach polo tournament later.
The States of Jersey agreed to relax rules to allow the event to be held in St Brelade's Bay.
Horses are banned from Jersey's beaches from 10:30 BST to 18:00 BST from 1 May to 30 September.
Tourism Minister Senator Alan Maclean said it was a good opportunity for the industry.
There are four teams in the Jersey Beach Polo competition called Newton, Zolfo Cooper, Spar and Banjo.
Twelve players are taking part, 11 of whom are from the south of England. One player is from Jersey.
They are playing to win the Jersey Beach Polo trophy.
Julie Settle, who sits on the organising team, said they had to work around the tides.
She said: "As soon as the beach starts to appear, we are going to cordon off the area that we are going to use for the arena.
"As soon as we can get down the slip with the crowd barriers and the marquees it is going to be frantic."
The event starts at 15:00 BST on the beach in St Brelade and it is free for people to watch.