Sainsbury's investigates leaflets in Jersey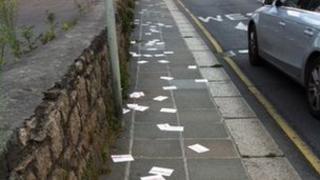 The UK supermarket chain Sainsbury's said it had no idea how thousands of its advertising leaflets ended up littering streets in St Helier, Jersey.
The marketing material has been seen blowing around the Springfield and Rouge Bouillon area of town.
But there is no Sainsbury's in Jersey, and the company does not allow online orders to be delivered to the island.
A spokesman said there were no plans to open a store in Jersey and it would investigate how the leaflets got there.