Jersey planners want stricter rules for gardens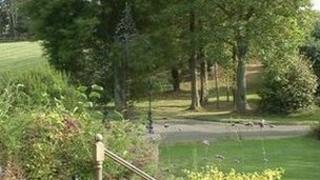 Stricter rules could protect parks and gardens in Jersey that are part of the island's history.
Planning Minister Deputy Rob Duhamel wants to give certain areas special status similar to a listed building.
He said historic gardens were fragile and could easily be damaged or destroyed.
Public and private grounds, including St Andrew's Park and St Ouen's Manor, are being assessed for their special significance.
The planning department is assessing 100 sites, such as Chateau Le Chaire Hotel in St Martin and St Saviour's Hospital.
'Damoclean sword'
Deputy Duhamel said he was also looking at listing about 30 private gardens.
He said: "Buildings look best in context and the context is usually the garden, so that is the reason. There are many buildings that have lost their appearance with the garden at the front."
Owners will have to stick to stricter rules on changing the gardens if listed.
Lord Jersey, who owns Radier Manor, said he was worried about what the changes would mean.
He said: "A garden is something one should enjoy, it is like a perk to the house, you buy a house with a nice garden, you love the garden but you don't want a Damoclean sword of planning permission to put in a bush or something.
"I don't know [to what extent] they are going to restrict what one can do but I don't think it is necessarily a good idea."