Jersey marathon organisers need more volunteer marshals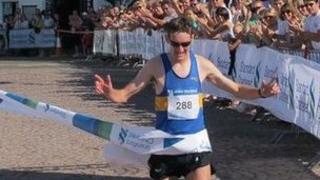 With more than 2,000 people expected to run in the Jersey Marathon organisers have said they need more volunteers.
The marathon is on Sunday 7 October and organisers have said it will be the biggest in the event's seven year history.
Marshal manager Ian Le Gallais said with the largest sign-up yet, volunteer marshals were needed more than ever.
So far 2,300 people have registered to run in either the full marathon, relay or 3km fun run.
'Community spirit'
About 80 marshals are needed for the marathon and Mr Le Gallais said it would be a great experience.
He said: "I truly hope that islanders will come forward and lend their support to be part of the great community spirit on race day."
So far 584 people have signed up to run the 26-mile race, with about 400 from outside Jersey.
There are also 275 relay teams of five signed up to share the 26-mile run and organisers expect 400 people to take part in the 3km fun run.
Prize money has been increased for this year's marathon to attract more elite runners.
The first finishers in the men's and women's races will win £2,000, a rise of £500 on last year.
Registration to take part in the Standard Chartered Jersey Marathon is open until this Sunday, 30 September.
BBC Radio Jersey will broadcast the Jersey Marathon live on 7 October from 08:45 BST until 13:00 BST on 88.8fm and 1026mw.