Durrell gorilla gives birth for first time in nine years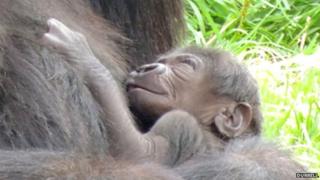 A gorilla at Durrell has given birth to the first Western lowland baby gorilla born at the Jersey wildlife park for nearly a decade.
A Durrell spokesman said the name and the sex of the newborn gorilla was not yet known.
He said mother and baby were "doing extremely well".
It is the first offspring of Badongo, the male silverback gorilla who replaced Ya Kawanza.
The 24-year-old Hlala Kahilli became a mother for the fourth time in the early hours of Thursday morning.
She was the last gorilla to give birth at Durrell in 2003, but Ya Pili died in 2007.
Mark Brayshaw, head of animal collection at Durrell, said: "We are delighted with the great news and so far the mother and infant are doing well, but as with all births we need to be extra cautious during the first few days."