Indefinite strike affects Jersey Connex bus services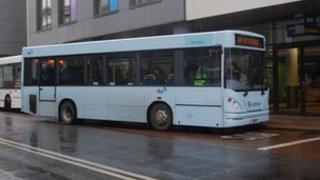 Bus services in Jersey have stopped after workers walked out in protest at the terms of a new contract with new employer CT Plus.
Connex Jersey, which runs services on behalf of the States of Jersey, said the strike started on Monday morning.
The walk-out is over changes to the contract for workers when CT Plus takes over from Connex in January.
Jim McCartan, from Unison, said the strike action was indefinite and that staff "had been backed into a corner".
"We have been given a deadline of Friday 12 October to sign up to this contract without negotiation or else they are going to interview outsiders, that's why we are on strike," said Mr McCartan.
John Rogers, from Transport and Technical Services. said: "Whatever else is said, this [strike] is about money and overtime.
"It is money for a few drivers who are earning I believe an extortionate amount of money and doing too many hours every week driving a bus."
Connex said information about the strike was available on its website.