Taxes on commercial properties could rise in Jersey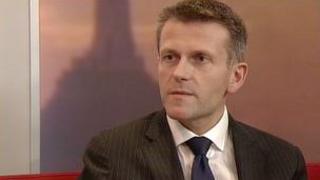 Taxes on commercial business properties could be increased in Jersey.
The idea is being considered by the Treasury as it reviews new ways of taxing foreign companies.
As part of a report into the way foreign-owned, non-finance companies are taxed, the Treasury is reviewing the tax it receives through property.
It is investigating whether commercial rates paid by foreign firms could be increased while keeping Jersey a competitive place for business.
'Jeopardise tax neutrality'
Senator Philip Ozouf, Jersey's treasury minister, said all the options the Treasury was considering would create new problems.
He said: "Extending the 10% or 20% [tax] band risks compromising compliance with the EU Code of Conduct, which in its turn could jeopardise tax neutrality - the mainstay of our financial services industry.
"We will continue to work with other Crown Dependencies, who are facing the same issue, and we will watch international developments."
Most Jersey businesses pay a zero rate of tax and do not pay corporation tax, instead they pay tax through annual payouts from their company's profits.
The Treasury said property was currently taxed lightly and it had started a review into the way property is taxed generally.