Jersey introduces ash tree import ban over disease concerns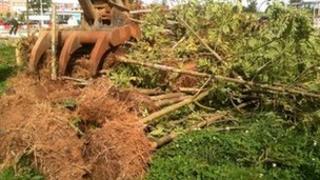 Jersey's government has banned ash trees from being imported due to concerns over disease.
The Department of Environment imposed an immediate and indefinite ban to prevent the accidental introduction of ash dieback disease.
Head of plant health, Scott Meadows, said it came after trees infected with the fungus Chalara Fraxinea were found in several UK nurseries.
He said the ban was already voluntary but would become official soon.
Mr Meadows said the infected plants had come from nurseries in continental Europe, or had been in contact with ash plants imported from the continent.
The UK plant health authorities have told nurseries to destroy all infected ash plants before the disease has a chance to become established.
Mr Meadows said: "Jersey's trees and woods have a very important role in our environment, landscape, health and well-being and must be protected from these organisms.
"Control and eradication of such organisms after an outbreak is difficult and costly, if possible at all. Ash dieback is a new threat to our native trees and no ash diebeack disease or symptoms have been detected in Jersey.
"The Department of Environment is taking precautionary action now to protect our environment and avoid a situation like Dutch elm disease in the 1960's."