Jersey abuse inquiry may start in 2013: Ian Gorst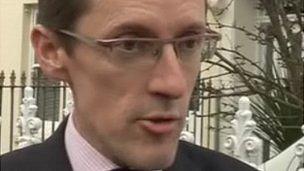 An inquiry into historical child abuse in Jersey should be up and running next year, according to the chief minister.
It follows two recommendations on how it should proceed made in reports by different consultants.
Senator Ian Gorst said he would publish plans on how it would operate in the next fortnight.
He said it would then be debated by the States, who would make the final decision on how it would be run.
A three-year £7.5m investigation into historical child abuse heard from 192 alleged victims and identified 151 potential abusers.
It led to seven people being successfully prosecuted.
A review by UK consultantcy Verita, which works exclusively with the public sector, called for a thorough investigation into the inquiry.
It expected any such inquiry to last for a year, involve evidence from more than 200 people, and cost at least £2.2m - not including any legal fees that would need to be paid.
Andrew Williamson, a former director of county social services in the UK, said the review should focus on the decisions by politicians and managers at Jersey's Children's Services from 1960 to 1994.
Senator Gorst said he was not under any pressure to choose one consultant's recommendation over another.
Related Internet Links
The BBC is not responsible for the content of external sites.