Jersey Police Authority 'to be backed by law next year'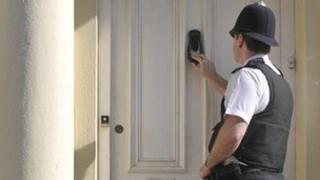 A law to create a Jersey Police Authority should be ready next year, the government says.
Jersey's Home Affairs Minister, Senator Ian Le Marquand, said the legislation was almost ready.
A draft law was drawn up in 2008 but was delayed by issues like the historical abuse inquiry in the island.
Now the Privy Council has given the go-ahead and Senator Le Marquand said he was hopeful it would be up and running by Easter next year.
'Huge mistake'
The authority would separate politics from policing and ensure the force is not too dependent on the minister, he said.
Senator Le Marquand said he was not able to give the police undivided attention.
It is thought the authority will not be responsible for Jersey's honorary police and the volunteer service will still be overseen by the Attorney General.
It is being set up as the UK scraps police authorities in favour of elected police and crime commissioners to oversee how crime is tackled by their local force.
Senator Le Marquand said: "I think what they are doing is going to have the effect of politicising policing and I think that is a huge mistake.
"We are trying to go in the opposite direction."
'Allay fears'
Robin Rumboll, the former head of the Shadow Jersey Police Authority, said the new body would help people feel safer in Jersey.
He said: "It gives you the forum to express your concerns.
"You would have somebody independent to go to and... they would allay your fears."
The Jersey Police Authority aims to ensure the officers are fair, efficient and effective.