Impact of chemical waste dumped in Jersey 'not clear'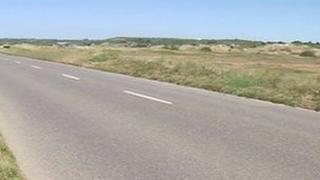 The environmental impact of industrial waste dumped in car parks along St Ouen's Bay in Jersey is not yet clear, the environment department said.
Two 60 litre drums of chemical waste were found on Friday.
David Monks, head of Jersey waste regulation, said the drums were found in car parks opposite Jersey Pearl and the Francis Le Sueur Centre.
He said the contents, believed to be oils and acetone, were being examined by his department.
He said as soon as they were reported, transport and technical services collected the drums and cleaned up the spillages.
'Serious incident'
Mr Monks said his team was shocked by the discovery.
He said: "It is the most serious incident of fly tipping chemical drums that I can recall and quite a few of my colleagues can recall."
An environment department spokesman said it was one of the most sensitive sites in Jersey.
He said the industrial waste could have penetrated the ground and polluted ground water, which feeds streams and drinking water.
Mr Monks added: "Fly tipping is a criminal offence under waste management law and if people carry out fly tipping and it is a serious incident such as this, ultimately it is punishable by the court."