Channel Islands 'lack leaders', says Jersey Senator Bailhache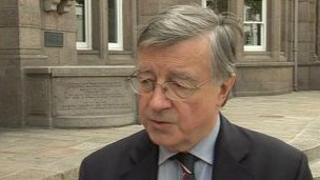 The chief ministers of Guernsey and Jersey need extra powers if the islands are to work more closely together, says Jersey's assistant chief minister.
Senator Sir Philip Bailhache, a former Bailiff of Jersey, made the comment at a conference into the issue of confederation of the Channel Islands.
Senator Bailhache said both lacked a "single leader who is fully in charge".
He said he favoured confederacy, but only if chief ministers were given the power to appoint and dismiss ministers.
In his opening speech he said: "In both islands there is much work to be done to get our political and governmental institutions in good working order.
"In Jersey there is a problem at the heart of government. As the chief minister has candidly stated, there is no single leader who is fully in charge.
"Without the power to appoint and dismiss ministers as necessary, the chief minister is denied the basic mechanism needed to ensure discipline. It is no different in Guernsey.
Single state
"These domestic issues have to be resolved before any serious advance towards confederation can take place."
However, he said that was no reason for mutual endeavours not to be discussed and pursued, such as where it was already happening with regulation, data protection and a joint office in Brussels.
The conference was a follow-up to the 2010 Jersey and Guernsey Law Review and looked at the issues and options involved.
These included setting up a confederation where both governments remain separate, but with a single body coordinating powers, and a federation where both Bailiwicks become a single state.