Bob Le Breton, a former Jersey police chief, dies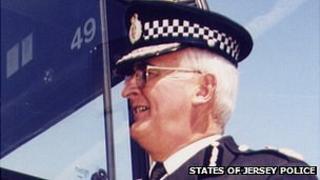 Bob Le Breton, a former chief of the States of Jersey Police, has died.
The 66-year-old died on Friday at the Jersey Hospice after suffering from a rare form of leukaemia.
In 2000, Mr Le Breton retired and moved to a cottage in the south-west France after serving for 36 years in the force.
His wife Deirdre said he had assimilated well into life in France and they both had great memories of his time in the island force.
She said: "We met many fascinating people, we were very privileged to meet royalty regularly... we both loved it."
Superintendent Andre Bonjour, who worked alongside Mr Le Breton for 19 years, said: "He was clearly a very caring and gentle man.
"[His] philosophy was all about improving the quality of island life, he loved Jersey, he loved the police in Jersey and wanted to get it absolutely right."
When he joined the States of Jersey Police in 1964, after working in his father's building business, Mr Le Breton was one of the first Jersey recruits to be trained in the UK..
Later in his career Mr Le Breton worked in the motorcycle and car patrol team and as a police accident investigator, dealing with 20 fatal car crashes a year in the days before seat belts and breathalysers.
Mr Le Breton was also instrumental in setting up the island's Police Complaints Authority.
His funeral is due to held next week at St Brelade's Church.