Bronze Age pot contains 21 axe heads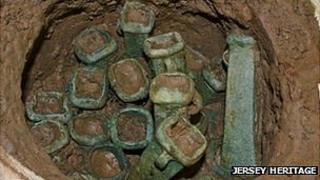 A Bronze Age pot found in Jersey contains 21 socketed-axe heads, X-rays have revealed.
Ken Rive, a member of the Jersey metal detecting society, made the find in a field in Trinity last month.
Two axe heads have been removed from the pot and examined by staff at Cranfield University.
They found they contained a lot of lead, which suggests the 3,000-year-old axes were not functional tools but objects of prestige, researchers said.
With almost 55% of the axe being made of lead the axe would not have had a very sharp edge.
Five major finds of Bronze Age tools, weapons and jewellery have been uncovered in Jersey between 1836 and 2001. It is thought the islands may have been a staging post for traders.
Jersey Heritage plans to remove the remaining axe heads from the pot and examine all 23 to learn more about them and life in Jersey 3,000 years ago.