Jersey treasury minister cautious over Plemont plans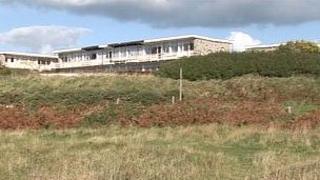 Jersey's treasury minister said he would support plans to buy Plemont for the island as long as the price was right.
Senator Philip Ozouf said he would back the chief minister's proposals but not at a cost of £14m, the amount proposed by the current site owner.
Jersey's Chief Minister Senator Ian Gorst wants the government to buy the former Plemont holiday site.
The site would then be sold on to the National Trust for Jersey for £2m.
The trust said the site would be returned to nature and then opened to the public.
The current owner Plemont Bay Estates has been given planning permission to build 28 homes on the site and leave part of it to nature.
Senator Gorst wants States approval to buy the land for the people of Jersey. He said he would not rule out a compulsory purchase if a deal could not be struck.
He said he expected the cost to be about £8m.
Paul Harding, the architect working for the owners, said they were not prepared to sell the site for £8m.
Senator Ozouf said: "It is a cautious yes, if the valuations are what I think they are, and £14m is a wild price to put about."
The States are due to debate Senator Gorst's proposal of buying the land on 11 December.