Selling Jersey public buildings will help pay for Plemont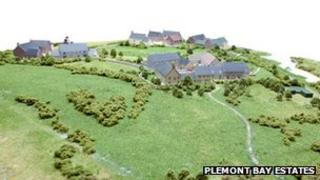 Public buildings could be sold so Jersey's government can buy a privately-owned beauty spot, according to the chief minister.
The Plemont headland, part of Jersey's seabird protection zone, has been valued by the owners at £14m.
Senator Ian Gorst wants the States to buy the site and said social projects would not suffer if it did.
If purchased the site would then be sold on to the National Trust for Jersey for £2m.
Site owners Plemont Bay Estates says there are better things the States can spend its money on.
The owners of the headland which includes the former Pontins holiday camp have permission for nearly 30 homes on the site and have promised to return 80% of the land to nature.
Senator Gorst hosted a public meeting on Wednesday to explain how he would fund the purchase of the beauty spot.
He said: "It seemed to me there was overwhelming support from the audience to preserve the headland for future generations.
"We are going to have to use cash from current monies but after that we hope to use the proceeds from the sale of other lands or buildings, we have about £1bn of property in our portfolio."
About 300 people were at the Town Hall meeting to hear what Senator Gorst had to say.
In a public notice, Plemont Bay Estates said they had "overwhelming public support" for plans to return most of the site to nature and build three housing clusters.
Senator Gorst has said he expects it to cost about £8m to purchase the Plemont headland.
The site owners put the value closer to £14m and say that with compulsory purchase costs and the cost of removing the old holiday camp buildings the States would need to spend closer to £16m.
The company said: "The States of Jersey could allocate up to £16 million to many other more important projects directly benefitting the community as a whole such as Les Quennevais School rebuilding, Social Housing provision - or other Health, Education, and Social projects."
Senator Gorst said he had already addressed those priorities.
He said: "We have just approved the medium term financial plan with £20m to get people back to work, £26m-£30m over three years for health and £40m for social housing, we are addressing those priorities and understand we need to invest in the future."
Politicians are due to debate the proposal on Tuesday 11 December