Jersey bus drivers may strike before Christmas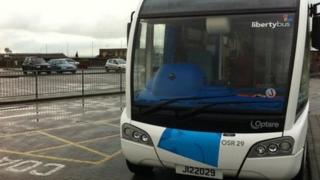 Jersey bus drivers say they could strike before the end of the month over changes to their terms and conditions.
The Unite union says it will send out a postal ballot in the next few days that will run for two weeks before being counted.
CT Plus is taking over Jersey's bus contract from 2 January and is re-employing drivers from Connex who have run the service for 10 years.
Drivers say they are unhappy with terms and conditions in their new contracts.
A driver, who did not want to be named, said some of them would lose at least £100 a week as a result of limits on working hours.
The States of Jersey imposed a 54 hour per week limit for drivers for health and safety reasons.
Transport Minister Deputy Kevin Lewis said most Jersey bus drivers had signed new contracts with CT Plus and that the company was recruiting more drivers than were previously employed.
He said only a handful were leaving the company to other jobs elsewhere or to retire.
Drivers went on strike on 8 October for two days over the same proposed changes to terms and conditions.
CT Plus said it was not able to comment.