Plemont valuation is 'inaccurate' says architect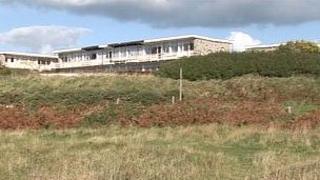 The £4m valuation of Plemont headland is "not worth the paper it is written on", says the architect behind the plans for homes on the site.
Paul Harding says the figure is inaccurate and that the owner will reject it.
The quote was commissioned by the government ahead of a debate on Tuesday to decide whether taxpayers' money is to be used to return it to nature.
The developer has previously said the land is worth £14m.
Preserving the Plemont headland, which is part of Jersey's seabird protection zone, has been the subject of a major campaign by the National Trust for Jersey.
In the report sent to States members, Treasury Minister Senator Philip Ozouf said the total cost through compulsory purchase would be £5.5m.
Mr Harding said the valuation "doesn't hold water".
If purchased the site would then be sold on to the National Trust for Jersey for £2m.
The owner of the headland, which includes the former Pontins holiday camp, has permission for nearly 30 homes on the site and has promised to return 80% of the land to nature.
Plemont Bay Estates said there were better things the States could spend its money on.