Channel Islands lottery money given to Jersey charities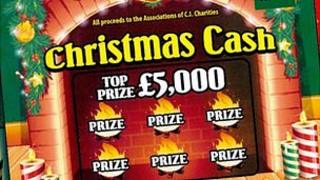 More than £100,000 of Channel Islands lottery profit have been given in grants to Jersey charities.
It brought the total given to charities this year to £579,868.
Nine charities benefited from the grants which will be used on refurbishment work, a new website, charity staff salaries and a minibus.
Liz Le Poidevin, Association of Jersey Charities' chairman, said: "It's been great to support so many more members with their grant requests again."
The Association of Jersey Charities was founded in 1971 and represents the majority of charitable organisations operating in Jersey.
'More applications'
Charities which have benefited from the grants are the Duke of Edinburgh Award, Caesarea Association, Scott Gibaut Homes Trust, First Tower Community Association, Jersey Heritage Trust, Jersey Army Cadet Force League, Triumph Over Phobia, Eating Disorders Action Group and Les Amis.
Ms Le Poidevin said: "Generally we are seeing more applications for grants these days as charities continue to struggle to raise funds to keep their operations going.
"Following our AGM in June we increased the annual amount that members are allowed to claim in grants from £20,000 to £30,000 and since then we have seen more big projects in particular coming through."
She said at the recent meeting a number of new charities joined the association, bringing the total membership to 287.
New members included the Antoine Trust, Jersey Fertility Support, Jersey College for Girls Parent Teacher Association, Love Matters and GOSH Jersey Cancer Trust Love Hearts Appeal.
New grant applications are due to be reviewed in March.