Jersey hospital ward shut after norovirus outbreak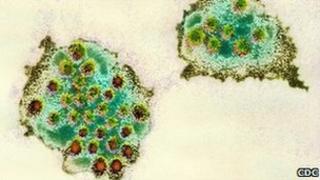 A ward has been closed to new admissions at Jersey General Hospital to help prevent the spread of norovirus.
Corbiere Ward has been closed and patients ill with norovirus symptoms in other parts of the hospital are being isolated.
The hospital said it was working hard to reduce the impact of the bug.
A small number of health staff have the virus and are away from their duties to help prevent further spread.
Bartlett Ward, which was closed due to the virus in November, reopened on 3 December.
People are being asked not to visit patients at the hospital if they have symptoms including diarrhoea and vomiting.
A hospital spokesman said: "The single most effective way to prevent any probable spread of norovirus is with thorough hand washing, using soap and water."