Boys with speech difficulties interview Jersey rugby team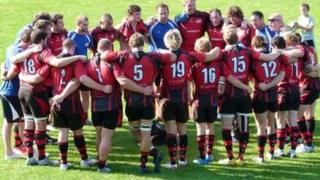 Three boys with speech difficulties have been improving their communication skills by interviewing members of Jersey's rugby team.
The idea came from the Jersey Speech and Language Therapy Service.
Therapist Hannah Poynton said the boys, aged 11, 12 and 13, were sports fans who were keen to meet the players.
She said she hoped by interviewing the players it would help them practice some of the speaking skills they had been learning.
"Everyday tasks such as asking for something in a shop, requesting a library book or even telling someone your name can be real challenges if you have a communication difficulty such as a stammer," Ms Poynton said.
"The group were also motivated to raise the awareness of stammering and to highlight that there is help available for people who stammer in Jersey."
Jersey player Guy Thompson was involved in the session. He said: "As a child I used to have a lisp so I know what the boys go through to a certain extent.
"They asked us questions about how we dealt with bullies and it was good for us to see the confidence these boys had to come up and ask us questions which was quite daunting for them at the start.
"When they really took their time you could barely tell they had a stammer."