Jersey hospital cancels a number of operations after Norovirus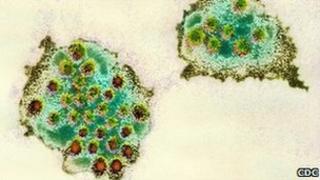 Some operations have been cancelled at Jersey's hospital due to Norovirus.
The hospital says the small number of cancellations will be kept to a minimum but the move was essential to stop the spread of the illness.
Corbiere Ward closed to new admissions on Friday. Bartlett Ward was the first to close but re-opened at the start of December.
Patients with Norovirus symptoms in other parts of the hospital are being isolated.
Angela Body, director of operations at the hospital, said: "With an illness of this type, we have to put the welfare of people coming into the hospital first, and carefully consider the risks to each patient from Norovirus if they are due to have surgery.
"Anyone who is affected by these cancellations will be contacted, and can be reassured that their surgery will be re-scheduled as soon as possible."
A hospital spokesman said islanders should not visit friends or family at the hospital if they have symptoms of Norovirus, or the Norovirus infection.