Jersey bus prices frozen for 2013 by new operator CT Plus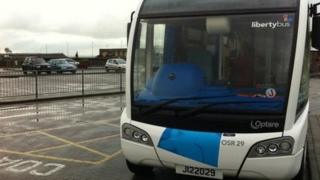 The cost of bus travel will be frozen in 2013 at the 2012 prices, according to new operator CT Plus.
The current maximum fare of £1.70 will be kept until the end of 2013 but passengers may be required to use a new travel card from the summer.
CT Plus takes over from Connex, which has run the bus service for 10 years, on 2 January.
They will operate as LibertyBus and also confirmed the child fare of 70p will be kept.
Kevin Hart, general manager of LibertyBus, said: "We want to give islanders a real incentive to make the switch to smartcards.
"Keeping fares frozen for the whole of 2013 for people who use the cards will help all islanders to change over."
Faster boarding
Mr Hart said the new smartcard was being introduced to ensure ease of payment and faster boarding times.
The company have also said they would honour any passes for travel due to expire after they take over on 2 January, including school travel vouchers.
This covers all forms of bus pass - concessionary passes (free travel for older people), monthly and weekly passes, commuter passes and the vouchers used for school travel.
CT Plus will also be issuing concessionary passes immediately from Liberation Station instead of people having to wait for them to arrive in the post.