Jersey constable says collapsed road 'may not re-open'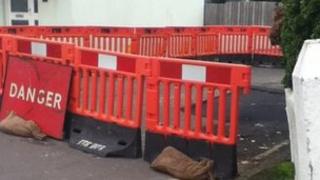 A road in Jersey that has collapsed for the second time in a year could be closed permanently.
Part of Rue du Maupertuis collapsed by Clos de la Mare and the road leading inland is closed.
St Clement Constable Len Norman says he can not keep putting public money into repairing the hole.
He said the parish is mainly marshland and that over building in the area has caused the road to become unstable.
Constable Norman said: "Unless we can find a solution we might have to close the road permanently, I can't keep spending money fixing a hole in a road that is just going to open again a few months later."
Over building
A hole opened in the same stretch of road about three years ago and it took the parish 12 months to find out what had caused the problem.
The road closed throughout that time and the constable said it was thought the problem had been solved, only for the hole to re-open again about six months ago.
Constable Norman added: "What is going on underneath the road we don't know until we conduct more investigations. It is caused by water but where it is coming from and going we don't know. Most of St Clement is a marsh, it is low lying.
"It has been high on the agenda for three or four years and is one of those problems the best engineers in the island can't resolve.
"One has to question whether it can be resolved, whether we have built too much in the area and the infrastructure is just struggling to cope."