Snow closes Jersey States schools and airport runway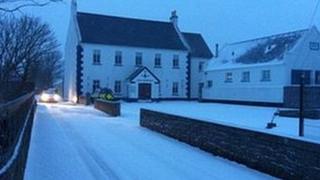 Jersey States schools and the island's airport runway were shut after snow fell overnight.
Jersey's Met Department said 9cm (3.5in) of snow fell in the island, causing widespread disruption.
The airport runway was finally only opened for flights at 14:40 GMT, bosses said, although passengers can expect ongoing delays.
Education chiefs said some schools had been opening, but solely to enable students to sit exams.
Alan Macdonald, from the airport, said: "Due to the continuing poor weather conditions in some parts of the UK there is likely to be some delays to air services for the remainder of today.
"Airline advice to passengers due to travel on Friday is, unless informed otherwise, to check-in as usual.
"Anyone affected by a cancelled flight should contact their individual airline."
Mario Lundy, Jersey's Head of Education, said school buses would not be running.
He said: "We are not confident we can fully staff schools therefore we are going to close today."
Jersey bus operator Liberty Bus, said some services were suspended but routes 1, A, 12, LEA and 15 were running.
A spokeswoman said that to ensure passenger and road safety, the route 12 would not be travelling to Corkier.
John Shearson, a forecaster at Jersey's Met Department, said the snow arrived in the island at 02:40 GMT and was likely to stick around all day.
He said there would be further wintry showers for the rest of Friday and overnight.
States of Jersey Police said drivers should take extra care on the roads.