Jersey Live parking change prompted by house building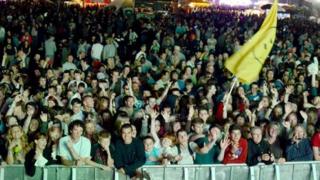 Alternative parking arrangements are being looked at for Jersey's annual summer music festival.
Houses are to be built on the field normally used to park for Jersey Live and construction workers have started to clear and peg the land.
A total of 43 houses will be built, with 25 homes for first-time buyers built in the first phase.
Constable John Gallichan said organisers and parish authorities were working on new parking plans.
"We have got fields for parking - alongside the previous one - so there's not going to be any major changes to the parking set up," he said.
"The only thing that may change is maybe the directional signs, so what we're working on is a travel plan to get to the parking."
Thousands of people are expected to attend the 10th Jersey Live at Jersey Royal Showground in Trinity on Saturday 31 August and Sunday 1 September.