Jersey parking plan to cost £4.8m says transport minister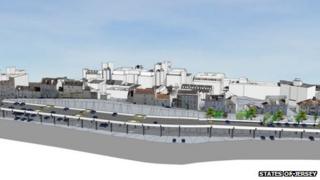 Plans to spend £4.8m on 90 car parking spaces in St Helier is "good value for money", according to Jersey's transport minister.
Deputy Kevin Lewis said after a review of parking in St Helier he felt increasing the size of Snow Hill car park was the best option.
The plan will see a second level added to the current single floor car park.
The minister said that in total £4.8m was needed and he had already found £2.4m from his department budget.
The extension will provide 90 extra parking spaces, working out at about £53,000 per space.
Parking currently costs 73p per hour at Snow Hill.
It would take about 29 years of each space being full eight hours per day six days per week for the States to get the money back on its investment.
Deputy Lewis said: "Over the years many different options for extending Snow Hill car park have been put forward. However there have been issues over aspects of the proposals which has meant no scheme has been developed past the concept stage.
"Now that the study has been completed and the report published, I would like to set up a high level working group, in conjunction with the Treasury Minister, to find the additional resources needed."