Jersey Post boss says internet keeps stamps cheaper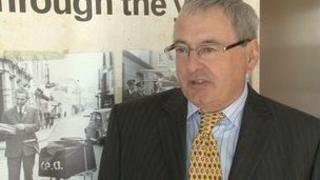 Competition from email and internet services will prevent Jersey Post from putting up stamp prices too high, according to the company boss.
Jersey's competition regulator announced plans to remove price controls on stamps as part of a more relaxed regulation of postal services.
Kevin Keen from the government-owned operator said it was a fair approach from the regulator.
He said if prices were too high people would turn to digital services.
'Painful decisions'
Andrew Riseley from the Channel Islands Competition and Regulatory Authorities (CICRA) said Jersey Post was under "significant commercial pressure".
He said: "For Jersey Post much of the competition is from other forms of communication, the volume of letters we send has dropped significantly over the past few years.
"We will keep our price control powers in reserve and if Jersey Post were to get completely out of control then we would re-instate them.
"But Jersey Post are aware that if they did put it up to much, more of us would use emails, online billing and other services."
Mr Keen said the loss of a tax-loophole allowing Jersey companies to sell low value good to the UK VAT free had had a "massive impact" on his business.
He said: "A few years before the loss of LVCR we took some painful decisions to make changes and reduce our costs because we thought there would be more competition and we would lose business that way.
"There is virtually nothing to lose now - business is 80% lower than it was this time last year. The steps we took to reduce costs last year means the business can be sustainable."