Jersey Airport to Le Marais bus dropped at peak time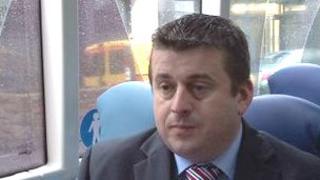 Plans to improve the reliability of the bus service will see the end of a key route linking Le Marais estate in St Clement to the airport at peak time.
LibertyBus, who started running Jersey's bus service in January have announced changes to the timetable that will start on 31 March.
Route 15 will be split at peak times stopping from each direction at the bus station in St Helier.
It will run as normal outside peak hours and at weekends.
Other planned changes to Jersey's bus service will see a new route called X12 launched that will run between Corbiere, La Moye and St Helier via Beaumont Hill twice a day.
Kevin Hart from LibertyBus said: "There are some minor changes but it is all additional, everything is about additional services put into our network.
"We have had reliability issues, we have had services not going to timetable, we haven't allowed enough time on some of the routes."
Mr Hart said the changes should improve reliability but that this was the launch of a consultation and he wanted the public to get in touch.
Mr Hart said: "If the public feedback is that people don't want the enhanced services then we will take that on board, these are our thoughts at the moment, nothing is set in stone.
"These enhancements are for the Easter period only until the end of May, from the end of May we will add more services through the day."
Other routes such as the 1A, 2, 8 and 12 will see extra journeys and an improved Sunday service.