Jersey nurses 'may get higher pay deal'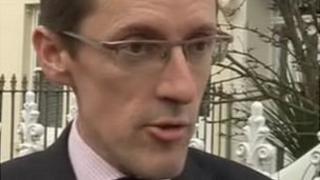 Jersey nurses could get a higher pay offer after the island's chief minister said he would look at the deal again.
Senator Ian Gorst said he recognised there were historical differences which needed to be reviewed including nurses on a lower equivalent rate.
Jersey's main nursing unions have planned a rally on Saturday in protest over pay and conditions.
Senator Gorst said he would not try to stop the demonstration but hoped he could improve conditions for workers.
The previous pay offer included a 1% lump sum for 2012, a 3% wage increase in 2013 and a 4% pay rise in 2014.
Sending a message
The States Employment Board (SEB) offered the rise to staff members, who had asked for a rise putting them on a par with other health workers.
Kenny McNeil, chairman of the nurses and midwives joint executive, said he hoped the rally would send a message.
He said: "This new information is welcome. I think it is important we wait and hear what they have got to say and take it from there.
"It does not change anything at the moment, we have been here before and this is a long standing problem. We have had statements before that would rectify the problem and we have had nothing yet. We will go on as planned."
Senator Gorst said the States needed to balance the money it gets from the public in an "appropriate way".
He said: "We recognised there was a difficult historical position [with nurses], certainly about recruitment and pay differentials.
"I am asking staff to see if there is further we could offer just that one section of the workforce."
Nurses and midwives in Jersey will hold a protest march on Saturday.
The rally has been organised by the RCN, RCM and JNA nursing and midwifery unions, to allow workers to demonstrate after rejecting a 3% pay rise.