Jersey weather radar upgrade 'improves forecasts'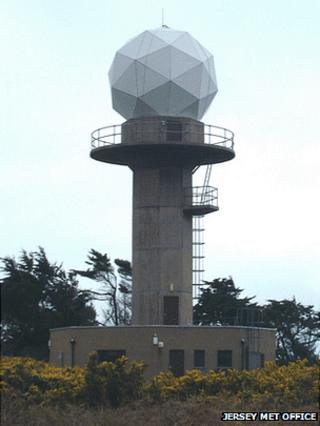 Channel Islands weather forecasts will be improved by an upgrade to radar in Jersey, according to the principal meteorological officer.
Anthony Pallot said the Doppler radar, near the German lookout tower at La Moye, could detect the intensity, location and how rain was moving.
He said it would provide cleaner and more accurate data for the computer models used to forecast the weather.
The upgrade was part of a British Isles wide project to improve forecasts.
Mr Pallot said previously there had been a lot of interference from coasts and hills, which varied with the weather.
He said being able to measure the motion would automatically cut down on the amount of interference.
The information measured by the radar also feeds into forecasts for the south of the UK and Europe.
Mr Pallot said the data was useful for whichever area was downwind from the island.
He said the UK Met Office was planning to upgrade the radar again with dual-polarisation as part of a wider plan, with it due to happen in Jersey some time after the middle of 2015.
Mr Pallot said: "By identifying the size, shape and variety of the precipitation, the dual-pol radar will help forecasters to see, far more precisely than they can now, whether it's rain, hail or snow heading towards us, and how much.
"That should improve Jersey's ability to forecast ahead, particularly in snow situations."
A UK Met Office spokesman said the Jersey radar was the last of 15 around the British Isles to be upgraded.
He said improvements to the towers and the telecommunication links at all the towers would take place before dual-polarisation was installed.