Jersey States 'incapable' of self reform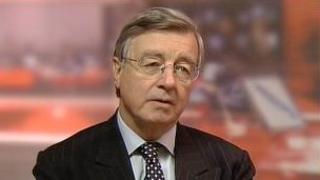 Jersey's government is incapable of reforming itself, according to the chairman of the electoral commission.
Senator Sir Philip Bailhache said the States of Jersey had proven time and again that it could not decide on its own make-up.
After a two-day debate, politicians agreed to hold a referendum on reform in April.
The debate saw five amendments put forward and rejected.
'Go and vote'
Senator Bailhache, who previously served as Bailiff which includes being speaker of the States, said it was time islanders had their say.
He said: "This is an issue which the debate over the last two days has shown, the States are completely incapable of resolving.
"They need the help of the people, so if you care about Jersey, if you care about the way in which the island is governed and the quality of the government and its responsiveness to the people, then you need to go out and vote."
Senator Francis Le Gresley said it was important States members had their say.
He said: "There is a clash here between the [Privileges and Procedures Committee] who have not done what was set out in the terms of reference, there was an arrogance that States members would roll over and say: 'This is fantastic and get this voted in'.
"We are here because we were elected by the people of Jersey to make decisions. We want to have a decision on what should be in the referendum, we are not going to just accept that this is right."
The referendum will be held on 24 April and the ballot paper will have three options covering the number or politicians and size of constituency.
The debate included five amendments looking to change the wording of the ballot paper and an attempt to make the electoral commission look again.