Rent could rise at two Jersey social housing sites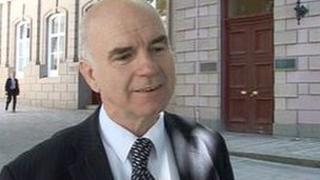 A rent increase for new tenants at two social housing sites in Jersey will pay for improvements, says the island's housing minister.
Deputy Andrew Green is asking the States to bring rents at Victoria Cottage Homes and George V Cottage Homes in line with other housing sites.
He said some tenants currently paid as little as £26 a week including bills.
However, he said he was keen to reassure people the changes would not affect existing tenants.
Deputy Green said at the moment almost every person had a different rent agreement.
He said as part of the proposed reform of social housing, he wants all social housing rents to be brought into line to 90% of the market rate.
The States will debate the plans on 30 April, but the minister said if no agreement is made on rents, he would have to go back to the drawing board.
The 63 properties at Victoria Cottage Homes and 15 at George V Cottage Homes were created for people aged over 55 who are able to live independently.
He said the money raised from the higher rents can be used on much needed maintenance and investment.
A quarter of social housing in Jersey needs improvement to meet the Decent Homes Standard, a benchmark for public housing introduced by the UK Government.
The proposal to increase the rents will be debated on 14 May.