Meeting called after 'close' vote on Jersey nurses' pay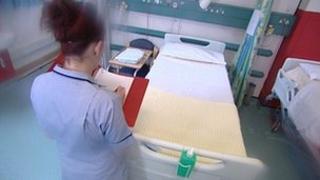 A vote over whether to accept a pay offer for Jersey nurses was "so close" the Royal College of Nursing (RCN) has called a branch meeting.
The RCN in Jersey has revealed the results of a ballot, which had a 44% turnout, did not have a clear mandate.
A spokeswoman said 48% accepted the pay offer and 52% voted to reject it.
The States Employment Board increased the offer from 3% to 4% for this year, and 4% in 2014.
The offer was originally 3% for this year, and 4% for next year.
'Lack of clarity'
Di Francis, RCN officer for Jersey, said they were urging members to go to a branch meeting on 18 April to come to a decision.
She said there was a lack of clarity around the vote and the turnout was not high.
She said: "We want to thank our members for bearing with us during these protracted negotiations.
"We understand that for them, every month that goes by without a conclusion is another month without any increase in pay.
"We do feel, however, we have turned a corner in our negotiations compared to the offer we started with."