Channel Island barn owl population hit by wet weather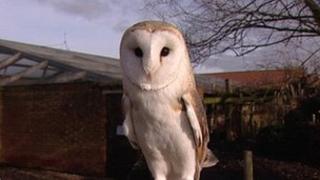 The barn owl population of the Channel Islands has been badly affected by a wet winter and spring, according to the islands' leading ornithologists.
Tony Beaumont, the co-ordinator for the Jersey Barn Owl Conservation Network, said he had received "a lot of reports of people finding dead owls".
He said very few live chicks had been seen and adult owls that had been picked up were very light in weight.
There are estimated to be 70 pairs of barn owls in Jersey and 40 in Guernsey.
Mr Beaumont said the owls detected prey primarily by sound and therefore relied on dry leaf litter in order to find voles and mice.
However, he suggested there were likely to be enough adult survivors to ensure "a good breeding group to carry on for this year".
Vic Froome, from the RSPB in Guernsey, said although the current population had been very badly hit by the wet weather, the situation for birds of prey in the island was much better than in the past.