'Not enough' Jersey social housing says scrutiny panel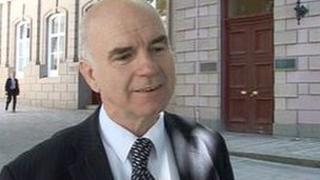 Proposals to radically reform Jersey's housing department would still not deliver enough new social housing, according to a group of politicians.
Housing Minister Deputy Andrew Green has introduced reforms that, if approved, would turn the housing department into a limited company.
The change would allow it to borrow funds to build extra homes.
But the States' Housing Scrutiny Panel says the department plans mean demand would still not be met for 30 years.
Deputy Green said making his department into a company would help ensure islanders were living in decent accommodation - because it currently had insufficient funding for new homes and improvements.
By incorporating the department as a company wholly owned by the States, he said it would have access to long-term investment of over £200m.
In a report on the proposals, Treasury Minister, Senator Philip Ozouf said borrowing of up to £200m over a 20-year period could be made available to the company at a fixed interest rate assumption of 5% per annum.
The housing department is not currently able to borrow money.
Deputy Kristina Moore, from the housing scrutiny panel, said his proposals would still not produce enough social housing.
She said: "The panel felt strongly that further work needed to be carried out in conjunction with other housing providers to further enhance the amount of social and affordable housing open to islanders.
"There are about 150 families in urgent need of housing and another 350 in lesser need."
The panel found that the proposals in the Housing Transformation Programme would create a net gain of only 287 new social housing units over the next 30 years.