Jersey synod urges bishop to press ahead with inquiry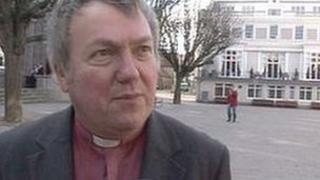 Jersey's Anglican churches have urged the Bishop of Winchester to press ahead with an inquiry into the island's dean.
The Very Reverend Bob Key was suspended by the diocese when his commission was withdrawn after allegations he mishandled an abuse complaint.
At an extraordinary meeting at St Brelade's Church Hall on Tuesday evening, the Jersey Deanery Synod expressed its "deep concern".
It was felt an investigation, announced in March, should now be well under way.
The Reverend Canon Geoff Houghton, the acting dean, said: "What we are particularly concerned about at the synod, is we actually get on with it - that there shouldn't be any undue delay in getting this investigation set up.
"We didn't feel it was particularly satisfactory we should have a situation where the dean cannot function fully - as the island expects him to - and yet we haven't yet begun the investigation."
'Relationship suffered'
The synod also voted to support a letter to the Archbishop of Canterbury, Justin Welby, asking him to intervene.
It had been written by Senator Sir Philip Bailhache, a representative for Grouville on the synod, who is also the island's deputy chief minister and a former Bailiff.
He raised concerns the relationship between Jersey churches and the UK had suffered.
The archbishops' office has previously said Dr Welby would not get involved in what was an internal diocese matter.
Nobody at the Diocese of Winchester was available to comment.
Members of the synod, representing 19 Anglican churches, also used the meeting to discuss the wider issue of safeguarding the welfare of children within the church.