Jersey festival ticket change to tackle underage drinking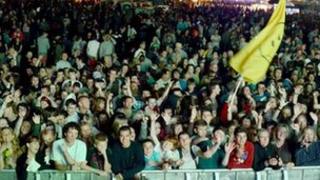 Organisers of a Jersey music festival are changing the way tickets are issued to try and eradicate underage drinking.
In 2011 States of Jersey Police said they were concerned at high levels of underage drinking at Jersey Live.
This prompted a change in ticket policy for 2012 which required people under 16 to be accompanied by an adult.
Festival director Warren Le Sueur said this year they would be introducing more changes including using a new ticketing company and "named tickets".
He said: "We are using a ticket agent called Eventbrite, everything will be online this year, each ticket will be named and age will be given at the point of sale.
"It is an added security measure so that if anyone is deemed to be intoxicated we can find their responsible adult."
Mr Le Sueur said that using named tickets should make teenagers think twice about getting drunk.
The line-up for the 2013 event, now in its tenth year, includes DJs Fatboy Slim and Pete Tong, The Cribs and Tom Odell.