Jersey police station plans deferred by minister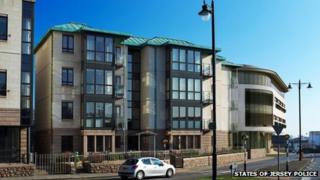 The decision over whether allow a new police headquarters to be built in Jersey has been deferred.
The States had agreed the new building should be sited on part of Green Street car park, subject to planning approval.
The planning department had recommended the planning minister approve the plans.
But, at an earlier meeting, Deputy Rob Duhamel delayed his decision on the £21m project saying he needed more time to consider all the issues.
He said he was leaning towards granting permission for the new headquarters.
However he said he wanted more time to consider the loss of parking spaces, a transport plan for access around the area and an additional scheme to reduce privacy and noise issues.
Loss of parking
During the meeting, it was announced a scheme to prevent noise was being considered, using acoustic fences, landscaping and changing the height of the boundary wall.
Deputy Duhamel said he was open to that possibility.
Deputy John Young, from the Environment Scrutiny Panel, said the panel found between 177-191 car parking spaces could be lost, which amounted to 30% of the parking at Green Street.
Deputy Eddie Noel, the Assistant Treasury Minister, said it would be reasonable to provide 52 extra spaces in the development.
Deputy Duhamel said: "These were late submissions of things that could offer further benefits to the good neighbour potential of the police station on this site and I was duty bound to put them into account."
He said the transport plan had also not been submitted and he wanted a clear idea of the impact on the area.
He said the delay of about seven weeks would ensure the very best for the site.