Decision delayed on Jersey's Esplanade development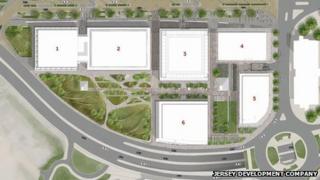 A decision about whether to allow the first phase of developing a Jersey International Finance Centre has been deferred by the planning minister.
Deputy Rob Duhamel said there were still a number of legal issues he needed advice on.
The States of Jersey Development Company wants to turn the 520 space Esplanade car park into a finance hub.
The States-owned firm wants to build six office blocks with underground car parking and create public pathways.
Politicians approved a masterplan for a finance district on the St Helier Waterfront in 2008, but under the current plans, the areas of development will be phased in, rather than introduced at once.
Public inquiry
The first phase of the Esplanade Quarter project plans to create 67,000 sq ft of Grade A offices with 41 basement car parking spaces.
Deputy Duhamel said he believed to change the masterplan it needed a public inquiry and he would take legal advice and look back at the States previous decision on the plan.
He said: "It was suggested [in the meeting] if a public inquiry was not the correct way forward, then was the masterplan as it was envisioned a number of years ago still valid for the financial and economic climate that we find ourselves in."
Lee Henry from the States of Jersey Development Company said without the development there was a risk of not being able to provide enough office space for the rate of growth in finance firms expected over the next 3-4 years.