Low turnout predicted in Jersey reform referendum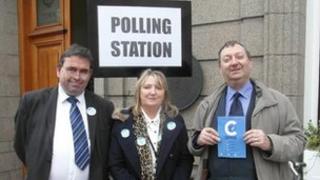 Possible reforms to the island's government have failed to inspire the majority of voters in Jersey.
Polls closed at 20:00 BST in a referendum on reforming the States Assembly.
Early indications from the polling stations showed a lower turnout than in the 2011 election, which was about 48%.
The highest estimated turnouts were in St Martin at about 40% and St Mary at about 37%.
Across the 12 parishes in Jersey, 63,945 were on the electoral roll, an increase of 2,035 on the 2011 election.
In a bustling St Helier at lunchtime on Jersey's referendum day, just three campaigners stood outside the Town Hall polling station.
Two were supporting option A, one supporting option C but no one was supporting option B.
Senator Ian Le Marquand, Jersey's Home Affairs Minister, was campaigning for option C at the Town Hall.
He said he voted against the referendum in the States and was disappointed there was no option D for none of the above.
He said "If there is a low turnout it will be partly because of that."
The minister said he thought turnout in St Helier would be under 20%.
'Undesirable situation'
He said he was against the number of politicians being reduced to 42.
Senator Le Marquand said: "It is too small and it's going to lead to a situation where the council of ministers, and assistant ministers will be in a majority.
"I think that is undesirable in any parliamentary system, I like to have checks and balances in any system."
Darren O'Toole, who was campaigning for option A at the Town Hall, said: "Public reaction has been very good overall.
"I was up at Rouge Bouillon [polling station] earlier and it was very slow there, but traditionally St Helier always starts off slow and it picks up as people go home from work."
Deputy Judy Martin, who was also campaigning for option A, said: "I think we have come up with a very complicated system, a referendum with three questions and you can have two votes, first and second choice.
"People who have never voted before but who are really fed up with politics as they are and think their vote won't change anything, need to vote.
"But will they come out to vote? I don't know, I hope they do."
Claire White, 30, from St John, said she was not sure whether to vote.
She said she had not seen any of the campaigns and "did not have a clue which way to vote".
However Ian Rayson, 60, from St John, said he thought the system needed to change.
He said: "I just think you have to vote. You have got the right, exercise it and you can maybe make a difference.
"Whether 40% vote or 80% vote, people who have voted want changes made so it should be binding.
"The main thing is if you don't vote, then don't moan."
'Every number counts'
Ed Le Quesne, from St Helier, said: "I think it's an important time to change the composition of the States."
Nadia Bush, 33, from St Helier, was disappointed when she went to vote in the referendum and discovered she was not registered.
She said: "I had my choice made and came in to vote, and unfortunately I can't go ahead with it.
"I think everybody needs to have a say because obviously the majority will win and if you don't put your opinion forward it is not going to make a difference but every single number counts."
Andrew Lewis, managing director of the Image Group, has been involved with marketing and public relations for more than 25 years.
He said the campaign posters for the referendum were all very different, and it was interesting the colours chosen were traffic light colours, apart from option C which chose blue.
Mr Lewis said: "I think people have given a lot of thought to the poster designs, and they have all done a sterling job in getting an awful lot of posters and banners up in a very short period.
However, he added: "One of the disappointing things is the government decided not to offer any kind of funding, so it could have been even more professionally done had there been a small amount of funding set aside."