Inquest calls for review of road after fatal Jersey crash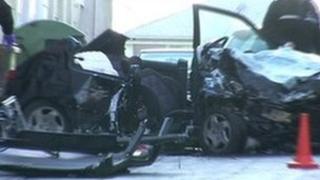 An inquest has suggested a review of parking on a main road in Trinity where a man died in a car crash in Jersey.
Joao Martinho Correia, 35, died four months after the crash on La Rue es Picots in March 2011.
The inquest concluded Mr Correia, who was born in Madeira, died of multiple injuries on 3 July 2011.
Jersey's Viscount Michael Wilkins said Mr Correia's car "forcefully collided with another car" close to the Trinity post office.
Eight people were injured in the crash, which involved three cars.
The inquest suggested the Constable of Trinity should speak to the relevant highway authority about whether parking should be permitted on the main road near the former post office.
Constable John Gallichan said a new speed limit for the road was being investigated as part of the plans for new first time buyer homes in the area which will be ready next year.
He said: "Because of the inquests verdict and their concerns, I think we will be talking to transport and technical services and maybe bring that forward."