Jersey housing scheme to help construction industry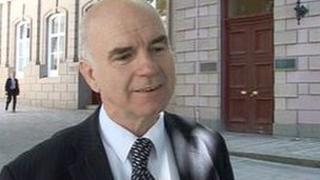 A scheme for homes in St Brelade will help families and the building trade, according to Jersey's Housing Minister.
Deputy Andrew Green said the plan for 35 social rental flats at Belle Vue near Red Houses was being put out to tender.
Five local contractors have been invited to tender for the project for four blocks of flats with roads, parking and landscaping.
Deputy Green said homes should be ready for families by 2015.
He said the work would provide a steady stream of new homes and opportunities for the building industry.
Wildlife survey
There will be a survey of the wildlife at the site, which the minister says will be protected.
Pupils from the nearby schools are being invited to paint murals on the hoardings to brighten up the area during the building work.
Deputy Green said: "The development of the Belle Vue site is an important step forward in the provision of homes which meet the requirements of modern households.
"We are working very closely with the Treasury minister to ensure our programme of works not only provides a steady stream of new homes over the coming years, but helps to support the local construction industry."
The minister said the plan was to deliver affordable homes and ensure compliance with decent homes standards.
This will be the fourth new project for the Housing Department this year with work continuing at Le Squez, Journeaux Street and Langtry Gardens as well as Belle Vue.