Jersey States tenants 'will not suffer' under changes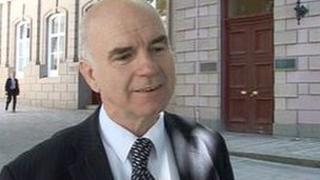 People in social housing will not suffer under proposed rent changes, according to Jersey's housing minister.
Deputy Andrew Green said Deputy Geoff Southern, who is concerned some tenants could see massive rent hikes, was "scaremongering".
Deputy Southern said under the plans to raise rents to 90% of private sector rent levels, "new tenancies face rent rises of £39 per week".
He plans to question the housing minister in the States on Tuesday.
"For tenants in two-bed accommodation, the rent rise will be even greater, of the order of £50 per week, or 30%," he said.
"By 2018 more than half of States tenants will be paying these new higher rates. By then all tenants will have seen their rents subject to annual inflation-plus rises of 4.25%, adding over £35 per week to rents."
'Fully protected'
But Deputy Green says Deputy Southern had got his facts wrong and his figures were based on out-of-date information.
He said: "Two-thirds of tenants, all those on income support, will see no increase at all.
"This is merely a case of social security paying the right support for the housing department, which will enable us to do our work.
"Current tenants will see only an increase of 2.1% per annum, [they] are fully protected unless they move, which is generally to downsize and therefore they would see a lowering in their rents anyway."
The States will debate major proposals to transform the way social housing is delivered in Jersey on Tuesday.
The plans include changing the housing department to a company run by the States to give it access to more money.
That would allow it to bring the quarter of social housing up to the Decent Homes Standard, a benchmark for public housing introduced by the UK Government.