Jersey Probation urges Facebook to remove 'name-and-shame' page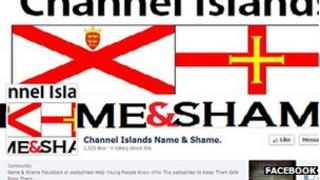 Jersey's Probation Service is asking Facebook to take down a page that "names and shames fraudsters and paedophiles" in the Channel Islands.
The website posts cuttings and clips from news websites.
It describes itself as "helping young people know who the paedophiles are to keep them safe".
The page currently has more than 2,000 followers, with those behind it saying they only post material that is widely available on official news sites.
Mike Cutland from Jersey's Probation Service said it could damage years of good work.
'Risk of vigilantism'
He said "in some cases" the page could be "encouraging others to break the law and commit acts of violence towards sex offenders and their families, which is disturbing".
He added: "We have expressed our concern to Facebook and hope the site can be removed, as it seems quite an inflammatory site."
Mr Cutland said he first heard about the page when a sex offender contacted his probation officer to say there was material about him on the page.
"It runs an increased risk of vigilantism; there is no evidence at all that this type of approach safeguards victims and reduces offending," Mr Cutland said.
"In fact, the opposite is true and, where there have been name-and-shame sites, perpetrators lose confidence in society, go underground and in some cases this can increase the risk of offending."
Facebook has yet to comment.