Flybe ends Channel Islands' Gatwick routes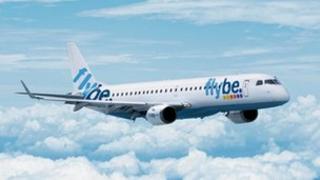 Airline Flybe will end its direct Channel Islands to Gatwick flights from April 2014.
The company sold its slots at the London airport to Easyjet for £20m, blaming an increase in airport charges.
Flybe said it would continue all flights between the islands and other UK airports.
It currently operates 34 flights per week to Gatwick from Guernsey and 28 flights a week from Jersey. They will continue until 29 March 2014.
Gatwick flights will continue from both islands with British Airways flying from Jersey and Aurigny flying from Guernsey.
A Flybe spokesman said no jobs would be lost at the company in Jersey as a result.
Planning time
Guernsey's Commerce and Employment Minister, Deputy Kevin Stewart, said government-owned Aurigny had time to work out how it could improve the link between Gatwick and Guernsey now Flybe had sold its slots.
He said: "We are disappointed but they won't be handed over until 29 March 2014 which gives plenty of time for planning."
A spokesman for Easyjet said the company would look at a range of options including the routes currently served by Flybe.
Doug Banister, group CEO for Ports of Jersey, said he had been in talks with a number of airlines.
He said: "Our Route Development Team has been in active discussion with Flybe and other carriers about how best to accommodate our Jersey Gatwick passengers as a result of this change."
Jim French, Flybe chairman and chief executive, said the increase in costs at Gatwick meant that increasingly small airlines would be pushed out.
He said: "Flybe fully appreciates the implications this will have, not only on Guernsey passengers but also on the Island's wider economy which has come to rely on the convenient life-line connections we provide to Gatwick.
"I'm afraid it's inevitable that high-frequency services from the UK's regions will ultimately be squeezed out of Gatwick, as they have been from Heathrow."