Jersey potato grower forced to import for first time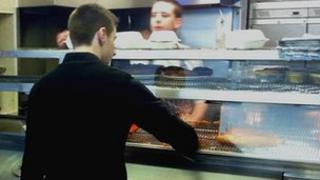 One of Jersey's biggest potato growers has been forced to import produce from the UK after a year of wet weather.
Staff at Amal Grow say for the first time in 20 years they have been unable to supply local customers with maris piper potatoes.
Farm Director, Mike Greenwood, said crops were seriously affected by the rain last summer.
One of their biggest customers, Hectors Fish and Chip Shop, are using potatoes imported from Lincolnshire.
Paul Spears from the shop said it was the first time in 20 years he had had to import potatoes.
He said: "The price of potatoes has more than doubled because of a worldwide shortage. We could go for frozen but I think we are a chip shop and as long as there are potatoes we should sell a fresh product."
Mr Greenwood said he had never worked a season like this before.
"We harvest from August through to the end of October in a normal year, the potatoes are graded and put into cold storage then as and when Hectors need them we bring them out of cold storage, pack them and deliver them to the shop.
"This year the cold store is empty because we had such a poor yield last year, it was too wet and there wasn't enough sunlight.
"We have struggled in the past with drought and trying to water the crop but I have never experienced it where there is wet weather week in and week out."