Jersey house prices rise by 3% in a year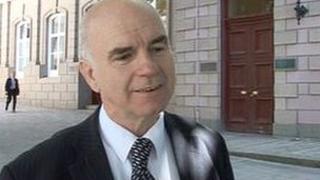 Jersey house prices rose by 3% in 2013 compared to the last quarter of 2012, with an average price of £410,000.
The latest figures from the island's House Price Index also reveal fewer properties changed hands.
There were 171 homes sold in the first three months of this year compared to 299 during the same time in 2012.
The report from the States Statistics Unit puts the rise down to the increased costs of one and two-bedroom flats and two and four-bedroom homes.
In contrast it said the average price of three-bedroom homes was £477,000, the lowest recorded in six years.
Limited impact
Jersey's Housing Minister, Deputy Andrew Green, said the drop in prices would help with affordability but if it was just a result of a weaker economy its impact would be limited.
He said: "In the medium-term our policy to reduce volatility in house prices and manage affordability will need to focus on the supply side [for example] managing development relative to future demand.
"The formation of a strategic housing unit agreed by the States last week will bring together the various strands of housing policy under one ministerial champion, who will develop a housing strategy to promote the long-term affordability of housing."
Deputy Green said a pilot Starters Homes Deposit Scheme would begin on 1 July and would provide low cost deposit loans, with other products to be developed soon.
Jersey's £410,000 is lower than the average home in Guernsey during the first three months of 2013, which was £448,000, and higher than in the UK, which was £235,000.