Jersey Queen stamp reissued for coronation anniversary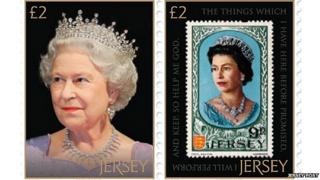 A Jersey stamp from more than 40 years ago featuring an image of the Queen is to be reissued to celebrate her 60 years on the throne.
Jersey Post said the the portrait of Her Majesty was produced as a stamp in 1969 and 1971.
The 9p stamp from 1971 is one of a two stamp set, known as a "se-tenant pair", which can be separated and used or kept together by collectors.
The second stamp is a recent image of Her Majesty in a lilac dress.
Melanie Gouzinis, Jersey Post's philatelic product manager, said: "After Jersey gained postal independence in 1969, Her Majesty graciously consented to sit for a portrait by Cecil Beaton to be used exclusively by the island of Jersey for postal purposes."
She said Mr Beaton was also the official photographer for the Queen's Coronation.
Mrs Gouzinis said the stamp included words from the coronation oath added using a "special gloss black hot foil print technique".
The stamps, which each have a nominal value of £2, were designed by the UK firm True North and will be issued on 2 June.