Jersey charity says more people turning to food parcels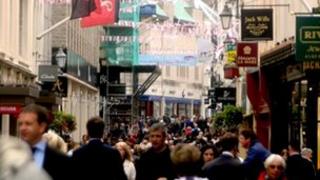 There has been a steady rise in people in Jersey looking for help such as food parcels, a charity leader has said.
Both the Grace Trust and the Salvation Army have reported a rise in the number of islanders coming to them for help.
Gerry Padden, from Christian charity the Grace Trust, said they were helping 80 families, which is 20 more than had asked for help last year.
He said: "The alarming thing is people are coming in throughout the week who are struggling."
Mr Padden said those who have recently lost their job or were on low incomes were struggling the most.
He said it had been a "horrendous" year and they had given food parcels to about 250 people.
In April there were about 1,900 people out of work on Jersey.
'More generous'
Mel Scoulding, from the Salvation Army, said it was providing up to 10 people a week with food and support.
People must have lived in Jersey for at least five years before they can qualify for income support.
Social Security Minister Senator Francis Le Gresley said Jersey's system was more generous than many.
He said: "A single parent, with a baby, perhaps who is not in work would be £80 better off after paying their rent [here] than in the UK, that is before we talk about cold weather payments and additional benefits.
"Through the Jersey annual social survey we asked the question 'Should the time limit for income support be raised or lowered?', the general feeling was it was about right at five years."